Pav bhaji Recipe in Hindi – How to make yummy Pav bhaji at Home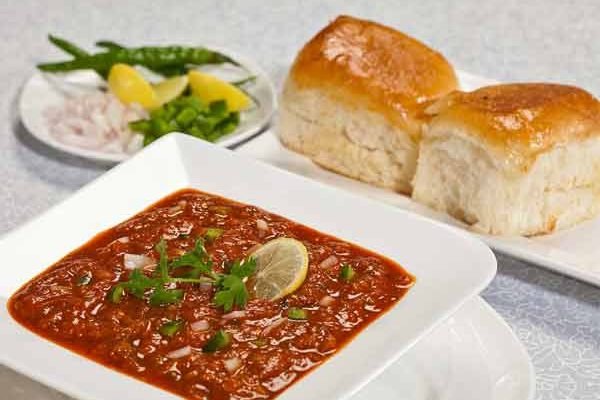 Pav bhaji recipe in Hindi – How to make yummy Pav bhaji at Home
---
History of Pav bhaji recipe
---
Pav bhaji is a hot and spicy food in which a thick and spicy vegetable curry are served with pav or bread. It is a fast food dish and was invented in some 1850 as a midnight dish for the all the business man or merchants who comes late in the night with their respective ships. The main principle of Pav bhaji recipe inventing this dish was simply that after the heavy sale of food, the food vendors were not having a proper quantity of vegetables to serve their client so they mashed up all their leftover in a sour and spicy gravy well fried in butter.
Now the logic behind using the butter was that merchants can get some energy and regain some of their body fat as traveling from one place to another witness many sun on those days.
So the vendors named their product as bhaji because bhaji is a Marathi culture word which means vegetables and that it what exactly the dish was.
Now if this is about bhaji then how pav comes to the stage. Actually, pav is an Afghani word and it is the heritage of them to us. Pav is nothing but just a yeasted bread.
During the initial days this recipe was only limited to the street food vendors but now this can be easily available from a local street food vendor to a five or seven-star hotel but with a kind of innovation.
Main Elements of Pav bhaji
---
Course: Snack
Main ingredients: Bread and mixed vegetables
Place of origin: India
Region or state: Maharashtra
Serving temperature: Hot
Taste: Spicy
Variations: Served in both dry and gravy form.
Pav bhaji recipe
---
Time required: 30 minutes
Servings: 3-4 people
Ingredients
Butter – 2 Bricks
Capsicum – 1
Carrot– 2-3
Cauliflower – ½
Carrot– 2-3
French beans– 100gm
Ginger – ½ tsp grated
Green chili – 1-3 finely chopped or as per tasted
Green peas – 1-2 cup
Pav – 2 packets
Pav Bhaji masala – ½ cup
Paprika – 1
Potatoes – 4-5 boiled
Spices- As per your taste or you can use given ratio
Tomato – 2 grated
How to make Pav bhaji recipe
---
Boil the all vegetables with half a teaspoon of salt and a cup of water.
Once they get boiled, mash all of them with a soft hand. Set aside.

Note: You may chop your bhaji and cook it with the butter.

Take out a frying pan or a deep base pan.
Add half of a butter brick and allows it to get melt.
When melting done add tomato puree to it.
While tomato is getting heated add onion, ginger paste and green chilies to it.
Fry them all till they get mixed well.
Now add 1tsp of salt, coriander and chili powder and turmeric powder, mix them with the puree batter well.
Add bhaji to it and mesh them tightly with the help of a masher.
When your bhaji gets meshed finely add spices in the same ratio as mentioned above along with the pav bhaji masala.
Now mix and mash them well.
Now add a half cup of water and remaining butter to the vegetables.
Cover it with lid and cook it on a medium flame for some 5-6 minutes.
Meanwhile, the bhaji is getting ready you can prepare your salad and other kinds of stuff you are going to serve with your Pav Bhaji.
Once the bhaji is about to ready, you can start preparing your pav.
To prepare them, first of all, cut them from the mid.
Take a tawa or a pan, heat it and add some butter on its surface.
Put your pavs as much as you can put on the pan.
Roast both the sides of the Pav.
Spread some butter on the inside of the Pav and roast it till it grows brown. Your Pav is ready!
On the other hand, your bhaji is also ready.
Pour the bhaji into a bowl and garnish it with butter.
Serve hot accompanied by your salad and homemade dhania-Mirchi chutney.

You can watch the demonstration in Hindi here:

हिंदी अनुवाद के लिए यंहा क्लिक करें::

Recipe Summary

Recipe Name

Author Name

Published On

Preparation Time

Cook Time

Total Time

Average Rating

Based on 6 Review(s)