Avakai Mango Pickle recipe – How to make Andhra Special Mango Avakaya Pickle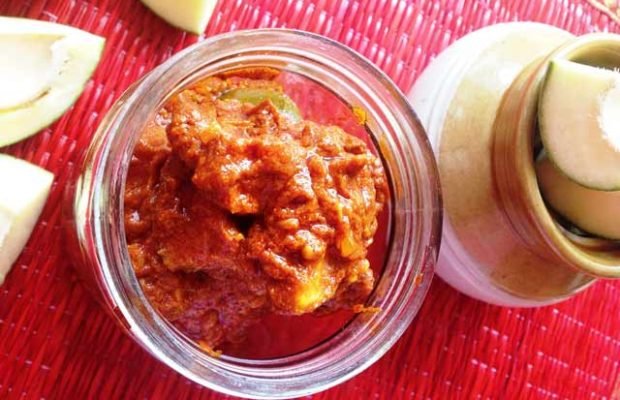 Ah! Achaar, especially avakai mango pickle is a must have accompaniment in most Indian households especially popular in South India.
Summers have set in. The children are very happy as it is vacation time. No school, no waking up early, no homework. I too loved summers as a child. But now as an adult, unfortunately, I do not get one month vacation. Nevertheless I look forward towards these 'hot' summers for two main reasons:
To prepare, savor and store, tasty 'hot' Avakai Mango Pickle
Wake up without the tension of having to prepare breakfast and lunch for my daughter early in the morning.
I remember, as soon as our summer holidays commenced, we were eager to visit my Grandmothers place in Andhra Pradesh. My mother too was very keen to visit her mother, her main motivation being to bring her annual stock of Avakai Mango Pickle which Ammamma used to make with great dedication and patience.
Avakai – the must have Andhra traditional mango pickle.Hmm, just the name of this pickle, tickles my taste buds and I have the urge to just rush and have a piece of avakai with hot rice.
The traditional Avakai Mango Pickle of Andhra Pradesh is known as Avakai or Avakaya. 'Ava' refers to mustard seeds paste or powder and 'kai' refers to fruit in Telugu. Come, summer, most of the households in Andhra Pradesh, start making preparation to make this 'lasting' pickle. It is almost a ritual to prepare this 'preserve' Usually the experienced senior ladies prepare this as they have a lot of expertise and as all precautions have to be taken to ensure that there is not contamination, especially by water. The day to make this Avakai Mango Pickle is first finalized after checking the 'thithi'. In order to choose and auspicious day as this is a very important and the avakai must remain good throughout the year (and not spoil).
One to two complete days are set aside and dedicated to making this 'delicacy'Moreover, the entire procedure of ponding, to mixing to packaging is an enjoyable and deeply satisfying experience.
'Avakai' is the undisputable 'culinary pride' of Andhra Pradesh Mangoes for the 'Avakai':
Special variety of mangoes only are used to make this pickle. As this needs to last for a year, magoes whose seed has developed well and forms a hard core are used. The common varieties preferred to make this 'relish' are: Suvarnarekha or Kolamgoa, which besides being sour, render a long shelf life to this 'delicacy'
The process of preparing the mangoes and the masala in Avakai Mango Pickle recipe:
Firstly, raw mangoes are bought in bulk. This pickle is usually made in large quantities. Usually 3-4 kilograms, is the minimum quantity of mangoes to be bought for a small family. As it needs to last for the full year. A major portion is for the family which makes it and also to be given to relatives, friends and neighbors.Thus an additional 10-20 % of this pickle is always planned for.
These are usually 2-3 kilograms. If you need to make larger quantities, more mangoes will be needed. These mangoes are washed in water, and wiped dry, until there are no traces of water. In the mean time the, podi( masala powder) is prepared. This comprises of red chilli powder and mustard powder. In earlier times, whole red chillies, which are well dried are, used to be ground to make the fiery' powder. But nowadays, some refer to but the readymade powders available in market. Thus making this a less time consuming affair. Then, the sundried (for a day) mustard seeds are ground to obtain a semi fine powder. Care needs to be taken that it is not made into a fine powder. As this ingredient contributes towards adding bulk to the 'Avakai masala.
Cutting the mangoes:
At the beginning of the pickle making process, the person making this pickle seeks God's blessing, so that all goes well. My mother and mothe-inlwa, say 'Om GaneshaaiNamah, as this Lord, blesses new beginnings.
Cutting the mangoes, Aha! This is the most ardous task. We need some strong persons here to cut the mangoes into pieces.And my father (with his passion for structural designing) got such a cutter, custom made exclusively for 'making avakai'. Each mango piece needs to be cut into four pieces, along with the part of the seed kernel (known as tenkai in Telugu) attached to it. Retaining the part of the seed onto the mango piece is a must. As this, helps to preserve the pickle for a long time. If the mango is big, then it may be cut into six pieces. Once the pieces are cut, the pith of mango (soft part) and the outer thin layer or fiber on the seed kernel part, needs to be discarded. Each of the mango pieces needs to be wiped dry with a clean piece of cloth. I remember as teenagers, we sued to help our mother, in this task.
The main process of mixing:
This is an important step. In a large wide dish, the chilli and mustard powder, turmeric, asafetida, along with salt, is added and mixed well. Chanting the Lord's name, the prepared mango pieces are added and mixed well with the blend. So that the powder coats the mango pieces. Now, sesame oil is added to this blend and mixe well, with your fingers, ensuring that the powders and mango pieces mingle well.
A little amount of oil is heated in a small pan and a morsel full of methi seeds are added to it. Once these seeds turn brown, it is added over the prepared avakai and mixed with hand again. I have explained to you the process of making the traditional mago pickle, 'Avakai' of Andhra Pradesh and will describe about the various other types of pickles in my upcoming blog post.
When the pickle is being prepared, the pickle aroma radiates through the entire house. I love this phase, as it assures me that our ancient traditions are being preserved across the generations and I am a part of it!
Storing the avakai:
Once the pickle is prepared it is stored in clean and dry 'jaadi' these are ceramic large jars, which are usually light brown colored with a small lid. A plastic or paper liner is used to cover the jar and then the lid is placed on it. Then the lid is covered with a piece of cloth and tied with a cord around it. This is so sealed so that the pickle marinates.
Pickle readiness:
Now the pickle will be ready to be savourered after 2-3 days of preparation. When it is freshly made it is known as 'kottaavakai' (which means new pickle in Telugu) The taste of this pickle is a bit more bitter than the aged pickle. Nevertheless, it has a unique tempting flavor. This pickle remains good for around a year. Some of the traditional houses in South India have a separate room to store pickles, which always remains dark and only some of the selected senior members of the family are allowed to enter this room. I mentioned this in my earlier blog post.
The sublime 'avakai' taste:
Wow, what a fusion! The bitterness of the mustard powder mellows the sourness of the mangoes, only to be elevated by the fieriness of the chili powder, which is enhanced by the nutty soft crunch of the methi seeds. A heavenly amalgamation of varied and heightened tastes!
Also read: How to make yummy Hara Bhara Kabab at Home
Why we need 'Avakai':
1) It serves as a spicy and tangy accompaniment, ensuring to make even a bland meal, is exciting
2) During the rainy days when there may be few vegetables, or when there are no other side dishes, or when you just feel lazy, this 'magic mix' comes to your rescue. Plain rice, a spoonful of avakai and curd, is just enough to complete your meal. Hmm, budget friendly.
3) There are times, when one gets bored of having the routine and common curries and chutneys. During those times to add an extra 'oomph' to your bland rice, Avakai is your hero or heroine'. Adding this 'fiery treat' to your routine meal renders a 'spicy' twist to your meal.
4) Or because some are just plain addicted to this 'magic mango preserve' And I have really come across some 'serious die hard' fans, who would not have a meal unless they see this 'pickle' on their plate. They live to eat Avakai! My uncle, Chandrasekhar, out of his love for this pickle, used to always remark, that the person who invented 'Avakai' needs to be awarded the 'Nobel Prize'.
Savoringavakai:
Savor this tangy pickle as avakaiannam (pickle rice): One or two morseful of simple rice is mixed with a dollop (or a spoonful) of 'aavakai' drizzled with a dash of oil. And savor this simple yet 'spicy' mix with fingers to be transported into an unparalleled gastronomic journey. A dynamite treat, literally jolting one's senses! Ah! Followed, by gulping a glass of water, please. Don't forget to finish your meal with curd rice. This will neutralize the fiery effect of the 'hot' pickle. This pickle is commonly used as an accompaniment when having dal and rice or other dishes too. It can also be savored with rotis, bread, dosas or idlis. A versatile 'perserve' indeed!
The tradition continues:
During the initial years after my mother's marriage, my Ammamma used to give Avakai Mango Pickle to my mother. Later, my mother started making this pickle, after learning the recipe from her mother. Now I have learnt this art from my mother, at the age of 40 and prepare this pickle every summer. Though, I leant this art, late, I am glad that I took this step and am very produce about it. I hope my daughter too continue this wonderful and 'spicy' tradition of pickle making. Though my family does not have this pickle regularly, I am motivated to make this preserve to be given to my close friends, who love this pickle.
Precautions to be taken during the pickle making process:
-Ensure that the area where the pickle is being made is clean and free from water or moisture
DO NOT let children in the area, where the pickle is being prepared. This is a serious task. Andyou would not want the munchkins to trip on the various ingredients.
Once you mix the pickle ensure that you do not rub your fingers on any part of the body. As the fiery red mix, will cause a burning sensation.
After the pickle mixing and packaging process is over, wash your hands thoroughly with soap. And later keep it dipped in cold water for some time, to numb the burning sensation. Due to the high amount of chilli powder in the mix, your hands tend to burn (I mean it, as I have experienced this)
Ensure the cut mangoes have the hard part of the seed (tenka) attached to it. If some of the mango pieces do not have this part, do not use them in this pickle.
Keep the packaged pickle in a clean, dry and dark place. After 2-3 days, mix it well and transfer a small quantity in a small glass bottle for regular use.
Use a clean and dry spoon or ladle to transfer the Avakai Mango Pickle to a smaller container.
Avoid opening the lid of the pickle jar, multiple times.
Sometimes, in places like Goa, where there is high humidity all through the year, moreover during the monsoon, the Avakai Mango Pickle may last for half a year only. In such cases, for the pickle to last longer, store some amount of pickle in a glad bottle in the refrigerator.
Recipe Summary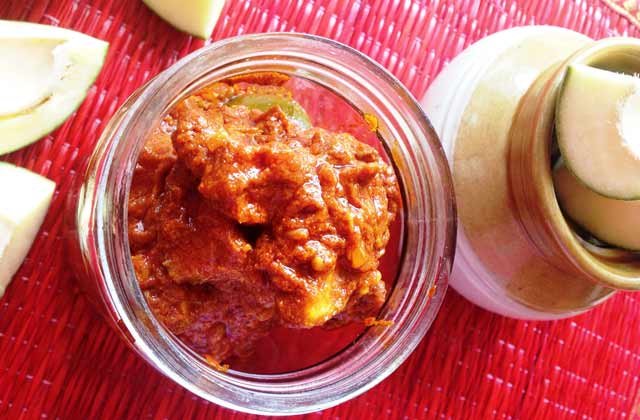 Recipe Name
Avakai Mango Pickle recipe
Author Name
Published On
Preparation Time
Cook Time
Total Time
Average Rating





Based on 3 Review(s)