Akshay Kumar Goes On Shoot An Advertisement With Very Strict Protocols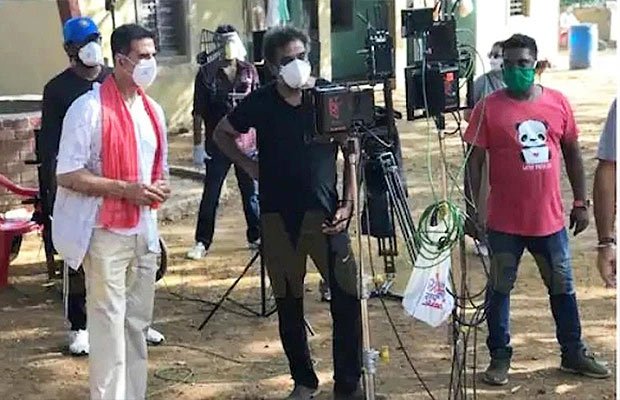 Mumbai: The hit machine Akshay Kumar and filmmaker R Balki has done shoot for an advertisement campaign on Monday regarding the "post lockdown responsibilities" at Kamalistan studio while taking necessary precautions.
Balki are creating the advertisement for the Health Ministry and the team is taking all the necessary precautions, including wearing masks and working with minimal crew. Now Actor Akshay Kumar is the first Bollywood star who are doing shoot on outdoor location amid the coronavirus lockdown.
Government are going to make people aware the public about "The post lockdown responsibilities of each one of us". This is an ad for the health ministry featuring Akshay Kumar. Concept of advertisement is We should get back to work but have to ensure our safety and those of others. So at their shoot, he used same precautions for the it.
Also read: The Best Movies Produced by Akshay Kumar
The director, who earlier collaborated with Akshay Kumar in films like Mission Mangal and Padman, said the crew realised the shooting can be done "quite easily" following all the guidelines. Healso included, Our producer Anil Naidu made everything seem effortless and we all are maintainin social distancing and the shoot happened smoothly following all hygiene protocols, ensuring minimum crew with maximum efficiency and safety.
Several pictures and videos from the ad-shoot have been doing the rounds on the Internet in which the whole team, including Akshay and Balki, are seen wearing masks. The production house has managed social distancing, sanitised the set, used disinfectant screen, masks and more. Also, there were only 20 people who were seen on the sets.
Meanwhile, Akshay Kumar is leading from the front in this COVID-19 situation, the actor had donated Rs 25 crore to the PM CARES Fund after this he donated Rs 3 crore to the BMC to assist the making of personal protection equipment and Rs 2 crore to the Mumbai Police and extending financial help to the owner of Mumbai's Gaiety Galaxy.