Gurmeet Ram Singh gets 10 year jail in rape case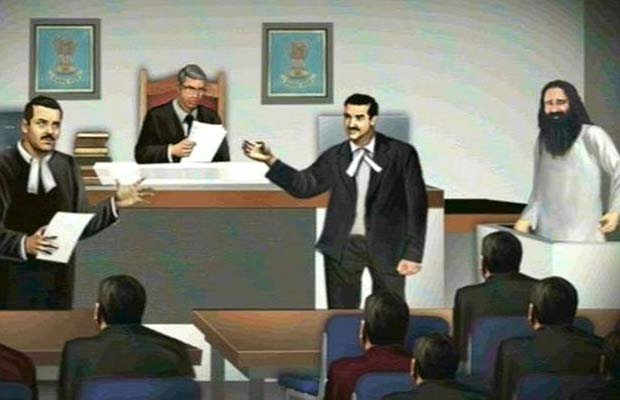 Gurmeet Singh does high voltage drama outside the court after being sentenced to 10 years of imprisonment. The self-proclaimed Godman is now using cheap tricks to escape punishment. He has complained of severe uneasiness and says that he urgently requires medical help. He has also warned that if anything happens to him then the state will be held responsible for this
The special CBI court has sentenced self-styled Godman Gurmeet Ram Rahim Singh to 10 years in prison. The court had already convicted him on Friday of raping two female followers and the sentence was awaited. The special court today in Rohtak announced Ram Rahim to be put behind the bars for 10 years. Rohtak was turned into a fortress following the violent incidents which happened in Haryana, Punjab and Delhi and no one was allowed near the court premises.
Chandigarh: Punjab CM Captain Amarinder Singh holds security review meeting with DGP,Chief Secy and other senior officials #RamRahimSingh pic.twitter.com/k07bHwaZE2

— ANI (@ANI) August 28, 2017
Jagdeep Singh, the judge who held Ram Rahim guilty last week flew to Rohtak where the convicted Guru is kept to announce the sentence. According to the reports, Gurmeet Singh broke down in tears after hearing the sentence. Force had to be used to remove him from the court as he refused to cooperate with the authorities to complete the further formalities.

The Dera Sacha Sauda chief will be taken to hospital for a medical test and complete other formalities and then he will be given the jail uniform. The court has also said that Gurmeet Ram Rahim Singh will be treated just like an ordinary criminal and will be given no special treatment.
Thousands of policemen including army personnel are deployed outside the prison where Gurmeet Singh is currently held. No civilian is allowed to enter within 10 kilometers of the prison premises. The government has advised all the residents of Rohtak to remain inside their houses.
This (sentence) must be accepted by the people and peace must prevail: Punjab CM Amarinder Singh #RamRahimSingh pic.twitter.com/Arp3bJ0uQV

— ANI (@ANI) August 28, 2017
The lawyers of Ram Rahim had pleaded for a lighter sentence keeping in view his social works whereas the CBI had asked for the life imprisonment. The judge announced the decision in the Rohtak prison so that the violence which took over 30 lives could be avoided.
Also read: Gurmeet Ram Rahim Singh covicted
To make sure that peace is maintained in the state, the government has suspended the mobile internet services and colleges and schools remain closed on Monday. The police had warned that they may shoot at any sign which may threaten to cause trouble.