Raj Kapoor Biography – The Greatest Showman of Indian Cinema, Childhood, Movies, Life Achievements & Age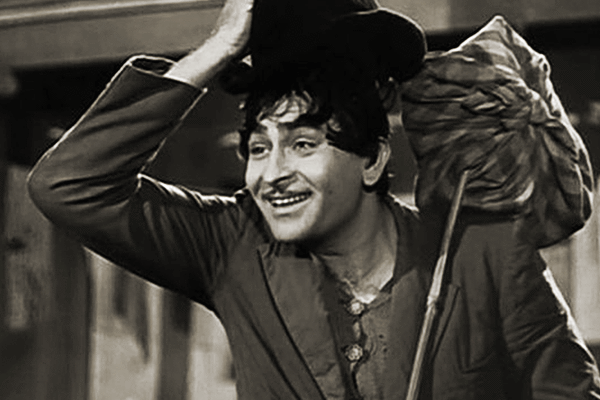 On 14 December 1924 Raj Kapoor was born in the family of the pioneer of Indian theater and of the Hindi film industry Prithviraj Kapoor and his wife in Ramsarni Mehra in Dhakki Munawwar Shah.
Prithviraj has three sons and one daughter. Prithvi was a part of the famous Kapoor family.  He was the son of Dewan Basheshwar Nath Kapoor and grandson of Dewan Keshavmal Kapoor.
Raj Kapoor Career
At the age of five Kapoor attended two schools in Dehradun Colonel Brown Cambridge School and St Xavier's Collegiate School. Five years later from the movie Inquilab, Kapoor appeared first time on the big screen. Kapoor keeps performing in several films and twelve years later in 1947 a big break comes for him. It was Neel Kamal where he appeared first time as a lead and opposite to Madhubala. Next year i.e. in 1948 Kapoor became youngest film director of his time by establishing his own studio RK Films. The movie Aag, celebrating the newly independent India was the first movie of RK Films in which he casts Nargis, Kamini Kaushal and Premnath along with himself. Two another movies of RK Films Shree 420 of 1955 and Jis Desh Men Ganga Behti Hai of 1960 also celebrates newly independent India. In fact, the song Mera Joota Hai Japani, of Shree 420 encourages everyone to be patriotic. Kapoor got a major success in 1949 from Mehboob Khan's Andaz, where he shares the screen with Dilip Kumar and Nargis. Andaz was Kapoor's first success as an actor while Barsaat was his first success as both producer and director. His production house, RK Films produced many hit films and he casts himself in them, such as Awaara, Shree 420, Chori Chori, Jagte Raho, and Jis Desh Men Ganga Behti Hai. Movies like Anhonee, Aah, Anari, Chhalia and Dil Hi To Hai are those successful movies in the account of Kapoor which he did outside his home productions. In 50's RK Films produces two successful social films, one was Boot Polish in 1954 while other was Ab Dilli Door Nahin in 1957. The movie Sangam of early 60's was the first color film and last major success of Kapoor as a leading actor was produced and directed by RK Films. Sangam also stars Rajendra Kumar and Vyjayantimala.
Both film critics and movie fans have always appreciated Kapoor. He has been adored globally and Africa, the Middle East, the former Soviet Union, China, and Southeast Asia are his major areas of fans. And not even this he has been called a "Charlie Chaplin of Indian cinema," according to movie buffs. The major reason for Kapoor's popularity was that they show off an era in which they were made.
For example movies of him like Aag, Shree 420 and Jis Desh Men Ganga Behti Hai were celebrating the fresh independent India, so they have a reflection of patriotism. The song of him Mera Joota Hai Japani from Shree 420 indicates that he has lots of imported stuff but his soul and hear are still Indian and he'll be patriotic. In addition to this many of his songs were evergreen like pyar hu aikrar hua hai, again from Shree 420, songs of MeraNaam Joker like jeena yahan marna yahan, jane kaha gaye wo din and kisiki muskura hatonpe ho nisar etc.
A tragic turn
In late 60's his movies with his younger stars Rajshree and Hema Malini were box office flops. Around the World and Sapnon Ka Saudagar falls in this category. After facing some flops Kapoor decided to work on an ambitious project entitled MeraNaam Joker. Kapoor not just produced directed this movie but he also cast himself and his son Rishi Kapoor as well. This ambitious project was such a big project that it took six years for accomplishment. Kapoor tied a lot of hope with this movie but instead of a miracle it become a disaster. On one side this movie was a debut of third generation of Kapoor family in B-Town and on the other hand it took Kapoor family to a financial crisis.
Award and achievements
Nominated for the Grand Prize at the 1953 Cannes Film Festival
Conferred with an honorary degree in Tehran.
Jagte Raho won the Crystal Globe award at the Karlovy Vary International Film Festival.
Raj Kapoor Film Festival was held on his 75th Birth Anniversary at the Cultural Centre of Russia
55th Cannes International Film Festival comprised a tribute to the showman.
Raj Kapoor film festival was also held in The Netherlands city
Raj Kapoor film festival held in the Omani capital Muscat
"National Award" for cinematography for contribution to Indian cinema.[14]
Honoured with the Padma Bhushan, in 1971.
The Filmfare Lifetime Achievement Award is named after Raj Kapoor.
The Government of Maharashtra has named a Life Time Contribution award and a Special Contribution Award in his honor.
"Best Director of the Millennium" award by Hero Honda-Stardust
"Showman of the Millennium" at the Screen Awards.
"Special Award" at the Screen Awards.
"The greatest showman of Indian cinema
Member of the jury at the 4th Moscow International Film Festival
Dadasaheb Phalke Award
A postage stamp, bearing his face by India Post.
A brass statue of his was unveiled at Walk of the Stars at Bandra Bandstand in Mumbai.
In 2014, Google commemorated his 90th birthday
Personal Life
In late 40's Kapoor married to his first cousin, Krishna Malhotra. Prithviraj's maternal uncle was Mr. Malhotra. In the June edition of the year 1946 of Film India which was a cine-magazine, the news of this epic marriage was revealed along with a caption of "versatile son of Prithviraj Kapoor ended his career of wild oats". Their marriage was a arrange marriage and after marriage Dewans wants Malhotra to becomes a daughter-in-law, wife and mother in a traditional mould and she proved herself to be that Rajendra Nath, Prem Nath and Narendra Nath are her brothers who later became actors while her sister Uma was married to Prem Chopra who was the Film villain.
Death
In 1988 at the age of 63 Kapoor died after being collapsed before getting Dada saheb Phalke Award. He has been taken to AIMS for the treatment where he has been admitted for a month. He started facing succumbed to complications arising from his asthma and these complications takes his life. An Indo-Pakistan based love story entitled Henna was the last movie on which Kapoor was working during his last days and after his death his sons Randhir and Rishi completed this movie.
Written by Sumeet Rathi ( Freelance designer and writter)