Shri Saibaba Satcharitra – Let's know Shirdi Sai Baba's historical fact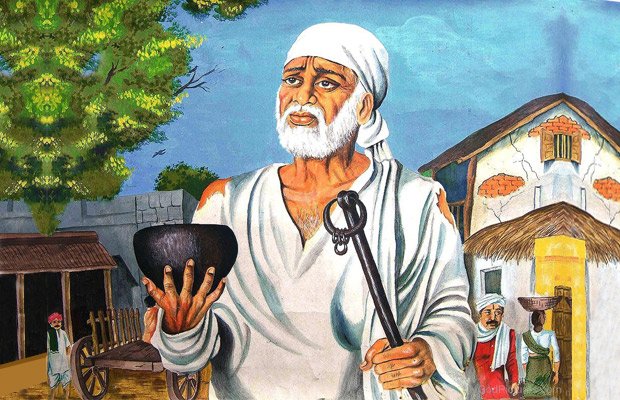 Sai baba of Shirdi popularly known as "Shirdi wale sai baba" was one of the most famous and respected spiritual figures in the history of India. He lived all his life as a fakir and was believed to possess many miraculous powers. His followers believed that he was an incarnation of God. His aura crossed religious boundaries and both Hindus and Muslims loved and respected him equally.
He taught people the value of self-realization and condemned the love and attraction towards materialistic things. He taught them to love, forgive, help and the devotion to the supreme power that guides all of us, God. He believed that by serving other living beings we can serve God. He showed the people the importance of surrendering oneself to the God and by walking on whose path one can attain salvation. He criticised the discrimination among humans on the basis of caste and religion. He taught people to rise above religion and lead their life as humans. It is still a mystery that whether sai baba was born a Hindu or a Muslim but that did not matter to him. It justified his teachings and beliefs. He took the good things from both Hindus and Muslims and combined them in his teachings. He lived in a mosque and gave it a Hindu name, Dwarakamayi. He practised the rituals of both the religions and celebrated all their festivals.
Sai baba was also known for countless miracles he made possible during his life. It is said his connection to God was so strong that made it possible. Through prayers alone, he could do many things which seemed impossible.
LIFE HISTORY OF SAI BABA
Though the date of his birth is debatable and there is no proper evidence it is believed that sai baba was born on September 28, 1835. His birthplace was a village named Pathri in the Parbhani, district of Maharashtra. There is almost no or very little information about his parents and early life. No one knows the real name of sai baba.
The title of "sai" was first given to him by the people when he arrived at Shirdi. Sai means "saint" or "master" or "Lord" whereas baba is referred to elder people with respect.
"Sai Satcharita" is a book on the life of sai baba. It states that sai baba first came to the village of Shirdi when he was 16 years of age. There he lived the life of an ascetic. He used to spend hours sitting motionless under a Neem tree doing meditation. He was indulged so deep in his meditation that even harsh weather conditions could not disturb his concentration. No matter how cold or hot it was or even when it was raining hard, the young sai baba was always doing meditation. The locals were surprised to see such a young boy meditating so hard.
He soon attracted the attention of the people and people were curious to know more about him. A lot of people started visiting him regularly which included many religious people. While the people were attracted by his presence there were many who did not understand him. They thought of him as a mad person and often threw stones at him.
One day he disappeared from the village without telling anyone. No one knows what he did after leaving the village. He is said to live in Shirdi for about three years and come back after a hiatus of one year. After coming back to Shirdi he spent the rest of his life there.
Samadhi
SHIRDI – SECOND COMING
Sai baba came back to Shirdi in the year of 1858. During his second coming to Shirdi he was dressed like a saint, his trademark dressing style he is famous for. He wore a one piece Kafni robe which was about knee length and a cap made of cloth. One of his devotee Ramgir Bua claimed that when he saw sai baba the first time he dressed like an athlete. He had long hair which was waist long. It was later that he took up the Sufi attire. His appearance was like of a Muslim fakir and that was the reason that Hindus initially hesitated to accept him.
Sai baba lived for bout five years under a neem tree. He used to meditate under it and often roam in the jungles of Shirdi. He spoke very less as he spent most of the time meditating. After people had accepted him they convinced sai baba to take an old mosque as his residence and live there. He lived his life in solace. He used to beg for alms and people of Shirdi used to give him food whenever they came to meet him. He had followers from both Hindu and Muslim community who loved him. They regularly came to see him.
He had lit a sacred fire in the mosque which he called as "dhuni". He gave the ashes of the fire to whoever came to his house. The ash was believed to have healing properties. Sai baba started treating the sick people of the village by using the ash.
He used to give spiritual teachings to his visitors. He encouraged the teachings of both the holy books of the Hindus and the Muslims – Bhagwad Gita and Quran. He insisted on the importance of remembering God always and never to forget him for he is our true master. He often used to express himself with symbols and other unconventional means.
His fame spread to the boundaries of Mumbai by 1910 and people started coming from far away places to meet him. His fame as a miracle man was increasing day by day.
TEACHINGS
Sai baba encouraged the idea of "God is one". He wanted the Hindus and Muslims to live together in harmony. He followed the rituals of both the communities and was aginst any kind of discrimination. He taught people that they should love others always and help them whenever they can. He also discouraged the attachment to materialistic things and earthly matters. He emphasized on doing one's duty honestly without thinking about the result. He also encouraged sharing and charity. He said that everything we have is given to us by God and we should share it with others.
MIRACLES OF SAI BABA
Lighting of lamps with water
Sai baba loved to light diyas (earthen lamps) in mosques and temples. He had to depend on shopkeepers for the oil. He used to take the oil from them and lighten the lamps. One day the shopkeepers refused to give him oil saying that they did not have it. Sai baba did not say anything and returned home. He put water in the lamps in place of oil and lit them bright.
When this news reached the shopkeepers they realized their mistake and came to him and asked for forgiveness. Sai baba was a man with pure heart and hence he forgave them.
When sai baba saved a child from drowning
Once a three old girl accidently fell into the well and started drowning. When the villagers rushed towards her they were astonished to see the sight. The little girl was floating in the air as if some invisible power had held her hand and pulled her upward. Sai baba was very fond of that girl and treat her like a little sister. People believed that it was the miracle of Sai baba who saved the girl.
Stopping the rain
A man named Rai Bahadur came with his wife to Shirdi to seek the blessings of Sai baba. When they were about to return it started raining heavily. It was lightning and thundering furiously as if a storm has approached. Seeing this, Sai baba prayed to God to stop the rain so that they can go back home safely. The God heard his prayers and the rain stopped instantly.
Also read: Yamraj sends 4 Letters of indications to everyone before death
Samadhi
During his last days, Sai baba used to ask his devotees to read holy books and he used to explain their meanings to them. It happened from morning till evening. He died on 15 October 1918 on the day of Dusshera.
Sai baba had become very weak during final days. On his final day, he was meeting with his devotees like normal days. He was imparting his teachings and giving "prasad". It was a normal routine. But the people had no idea that it was going to be his last day.
In the afternoon people were making preparations for aarti (a ritual of worship) when a divine light entered Baba's body. During the aarti, Sai baba gave the glimpse of various Gods and Goddesses of various religions in his face in a moment.
After the proceedings got over baba asked his devotees to leave him alone. After everyone left sai baba had a cough and vomited blood and died.
Must Watch Shirdi Sai Baba Story Video