Sealdah Ajmer Express derails – 44 injured, Railway Ministry clarifies no deaths reported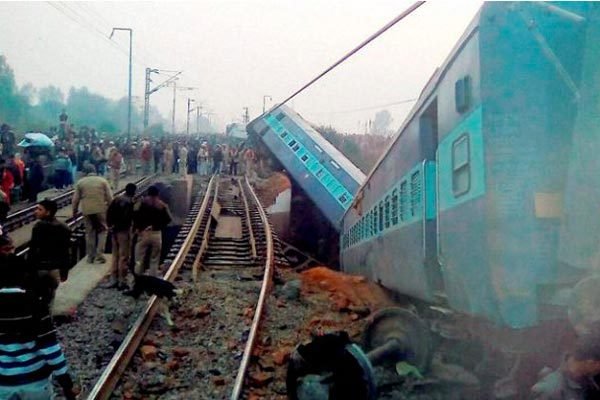 Delhi : 15 coaches of Sealdah-Ajmer Superfast Express with more than 500 passengers derailed in Kanpur Dehat district in Uttar Pradesh on an early Sunday morning of 28 Dec 2016, Wednesday. The Train Accident happened around 6 am in the morning near Rura Railway Station when the train was crossing a bridge over a dry canal in the area. It was a fatal train accident which has derailed 15 coaches and more than 44 people are injured in the accident, have been taken to nearby hospitals. According to the latest reports, the death toll has risen to near about 2 and injury count is over 44.
The overnight passenger train, Sealdah-Ajmer Superfast Express, rolled off the track when most of the train passengers were sleeping. Rescue operations of this train accident are over and the stranded passengers are being ferried in buses to Kanpur railway station, North Central Railways PRO Mr Amit Malviya told to Udti Khabar News Reporter.
This is the second train accident in Uttar Pradesh within two months. In November, Indore-Patna Express had derailed at Pukhrayan in Kanpur Dehat district of Uttar Pradesh, killing 120 people and injuring 180 others.
Live updates:
1.37pm: Uttar Pradesh chief minister Akhilesh Yadav announces relief of Rs 50,000 for seriously injured passengers  injured, Rs 25,000 for those with minor wounds
12.45pm: Spokesperson Anil Saxena said due to the unfortunate train incident, ministry of railways has decided to cancel the formal programme of the launching of various services in Uttar Pradesh to be held today ie 28 Dec 2016 at 2:20pm in Rail Bhawan. However,all the services and projects will be considered to have been launched and inaugurated.
11.09am: Indian railways ministry clarifies no deaths as yet in the Kanpur train derailment, issues a list of 44 passengers injured.
10.48am: Indian Railways spokesperson Anil Saxena says financial assistance under rules is being made available to victims of Sealdah-Ajmer Express train derailment. People who opted for additional insurance cover through e-ticketing will also get the benefit of their claim.
10.15am: New Delhi-Lucknow Gomti Express, Delhi- Azamgarh Kaifiyat Express, Anand Vihar-Rewa Express cancelled for Wednesday due to operational reasons
9.57am: Number of injured increases to 43: Kumar Ravikant, Kanpur Dehat DM, tells ANI
9.30am: All the passengers are being rescued and alternate arrangements are being made for those who want to continue with their journey: Kumar Ravikant, Kanpur Dehat district magistrate, tells ANI
8.42am: Two killed, 28 injured, says Kanpur IG Zaki Ahmad
8.35am: Officers engaged in rescue operation tell Hindustan Times that two of the fifteen derailed bogies have fallen in the nearby canal while one is lying on the platform at Rura Station. However, they said the bogies are not that badly damaged as they were in case of Indore-Patna train accident last month.
8.25am: Two persons killed, 26 injured: Kanpur inspector Zaki Ahmad general tells PTI
8.05am: Railway minister Suresh Prabhu tweets: We are working with hospitals and district administration to offer all possible help. We are making alternate arrangements for passengers to continue with their onward journey and are thus taken care of.
7.58: Indian Railways spokesperson Anil Saxena tells news agency ANI: "As per preliminary reports 15 coaches of the train got derailed. The first five and the last three coaches were intact."
7.53am: Rescue operations on. Sixteen rushed from the spot to the hospital.
7.45am: Railways minister Suresh Prabhu says he is "personally monitoring the situation"; has asked senior officials and directed all concerned to ensure rescue and relief.
7.40am: Indian Railways says accident relief train (ART) with accident relief medical equipment (ARME) have been sent for rescue operations.
6.45am: First visuals of the accident come in. According to initial reports, 14 coaches of the train derailed.
5.20am: Train no. 12987 Sealdah-Ajmer Express derails between Rura and Metha railway stations near Kanpur
Other trains which will be diverted are:
■ 12826 New Delhi-Ranchi Jharkhand Sampark Kranti Express will be diverted via Palwal; started on 28/12/2016
■ 12382 New Delhi-Howrah Poorva Express will be diverted via Palwal; journey commenced on 28/12/2016
■ 12312 Kalka-Howrah Kalka Mail will be diverted via Moradabad; journey commenced on 27/12/2016
■ 12488 Anand Vihar (Delhi)-Jogbani Seemanchal Express will be diverted via Moradabad; journey commenced on 28/12/2016