Reliance Jio 4G comes at Rs 50 per GB and free voice calls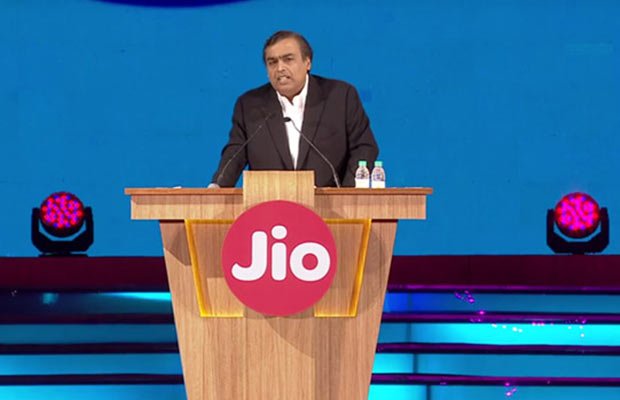 Reliance Jio 4G service or a treasure box?
With the aim of making India a global leader in the race for internet market chairman of Reliance industries, Mukesh Ambani launched the much anticipated Reliance Jio 4G service.He announced at company's 42nd annual general meeting on Thursday that Jio 4G service will be available from 5th September.Until the month of December, it will be completely free and the users will not have to pay any charges for data or call usage.Reliance will commercially launch Jio on December 31.Reliance claims it to be the cheapest data service of the world with the data rates expected to be as low as Rs 50 per GB.However, whether the company remain true to its words or not is yet to be seen.
He dedicated this move to the digital India vision of honorable Prime Minister Mr. Narendra Modi.Mr. Ambani further claimed that it will put India among the top 10 ranked nations in mobile broadband internet access.Currently, Inda's rank is 155 out of 230 countries in the market.The basic aim of this service is to reduce the call and data rates and to make sure that every Indian enjoys high-quality internet at low prices.The launch of Reliance Jio has taken the world of mobile internet by storm and is sure to give serious competition to it's rival service providers.
FREE VOICE CALLS AND NO ROAMING
With Reliance Jio 4G service all domestic voice calls (no matter which operator you call) will be free for lifetime and the data rates will cut down to 1/10th of the current market rate.This means that customers now will have to pay only for one service i.e data usage.Free voice calls will surely create a headache for the rival companies.
To ensure more transparency the company has decided to put an end to blackout days.This means that from now on you don't have to pay extra charges for text messages on festival days such as Diwali, Holi etc.This comes as a huge much-needed relief for customers.
Jio customers need t to worry about roaming charges as it will be absolutely free.International roaming charges will also be cheaper compared to other service providers according to sources.
DATA PLANS
Data plans are the part of Jio 4G  that has created most of the buzz.Reliance claims that it will cut the data prices down to approximately Rs 50 per GB.The funda for this is simple.The more data you use ,the less you pay.Reliance unveiled various data plans for the customers.It has introduced 10 main data plans.The plans start from Rs 19 for occasional users up to Rs 4999 for users who use too much of data.The packs range from small to XXXL.The good thing is that in most of the packs users can use unlimited free 4G data during night.
Small Jio data tariff starts at Rs 149 which will give 300 MB data.
Medium packs include Rs 499 which will give 4GB of 4G data+unlimited 4G at night with 28 days validity.Users will also get 8 GB additional 4G data which they can access through Reliance internet hotspots which will be set up all over the country.The total data that you can use in this pack is 12 GB for Rs 499.The average cost of per GB usage turns out to be Rs 42.
The average cost of other plans works the same way.
COVERAGE AREA
Reliance Jio 4G network will span across over 18000 cities and towns and 2 lakh villages, the company claims.Reliance aims to cover at least 90% of the country's population by 2017.The company aims to reach around 100 million customers as soon as possible.Jio already seems to have over 2 million customers as a result of it's preview offer.
JIO PREMIUM APPS
Reliance Jio brings a series of  Jio premium apps for the customers to ease their lifestyle.All these apps will be free for the customers until December 31.These apps include JioDrive, JioOnDemand, JioXpressNews, JioMags, JioPlay, JioBeats,JioMoney and JioSecurity.
WELCOME OFFER
To attract more customers Reliance has launched a special welcome offer for those who decide to join Reliance Jio 4G family.This offer will give customers access to free unlimited data and voice call services including Reliance premium apps for the rest of the year.This offer will be valid until 31st December 2016, after which the users can choose their own data plans and pay according to it.
SPECIAL PLAN FOR STUDENTS
If you want to make your idea a success then you should target youth as they are the future of nation who will live with the vision.Rightly, Reliance has understood this concept and comes out with special plans for students.Students will have to show their valid student ID cards and they will get 25 percent extra data on every tariff plan.
WI-FI
Reliance Jio offers extra Wi-Fi data in data tariff plans.In order to be able to use, that data customers will require wi-fi spots.Reliance is all set to set up over one million wi-fi spots in the country.It has also launched Jio Fi router at Rs 1999.These routers will allow users with 2G/3G smartphones to enjoy 4G services without the need of buying a separate 4G smartphone.
QUICK ACTIVATION
Reliance Jio has introduced an e-KYC system which will activate the Jio sim within just 15 minutes.So gone are the days when you had to wait for 1-2 days to get your number activated.Now it is as fast as it can get.This service is currently available in Mumbai and Delhi and soon will reach out to other parts of the country.
HANDSETS
Reliance has collaborated with around 20 smartphone companies in the market like Samsung , sony etc. which will provide Jio sim cards along with their smartphones and give free voice calls and data services for three months.Along with it, Reliance will also launch it's own handsets under their LYF brand along with VoLET support starting at Rs 2999.Bout 70% of the devices sold in India support 4G and Reliance aims to make it 100%