Taj Mahal History – An Eternal Love Story
About Taj Mahal – A Wonder of the world
Usually when we tell about Agra famous City of India (Bharat), as well as a name comes, it is Taj Mahal.Everyone knows Taj Mahal as a symbol of love but not everyone knows about the real story behind this magnificent structure.People are curious to know about the true love story behind Taj Mahal.Taj Mahal is ultimate monument that is a symbol of an eternal love story that has been melting the hearts of millions of listeners.Fifth Mughal Emperor Shah Jahan commissioned the Taj Mahal in the memory of his begam(wife) Mumtaz Mahal in 1631.The Taj Mahal is an ivory white marble historical building on the south bank of the Yamuna river.It includes and expands on architectural design of persian and mughal tradition architecture.
The Taj Mahal is situated in Agra and this city is a third biggest district of Uttar Pardesh. Agra was the favorite city of Mughal Empire that's why earlier Mughals declared it as the capital of India but now Delhi is the Capital. According to History, Ibrahim Lodi developed Agra in 1504.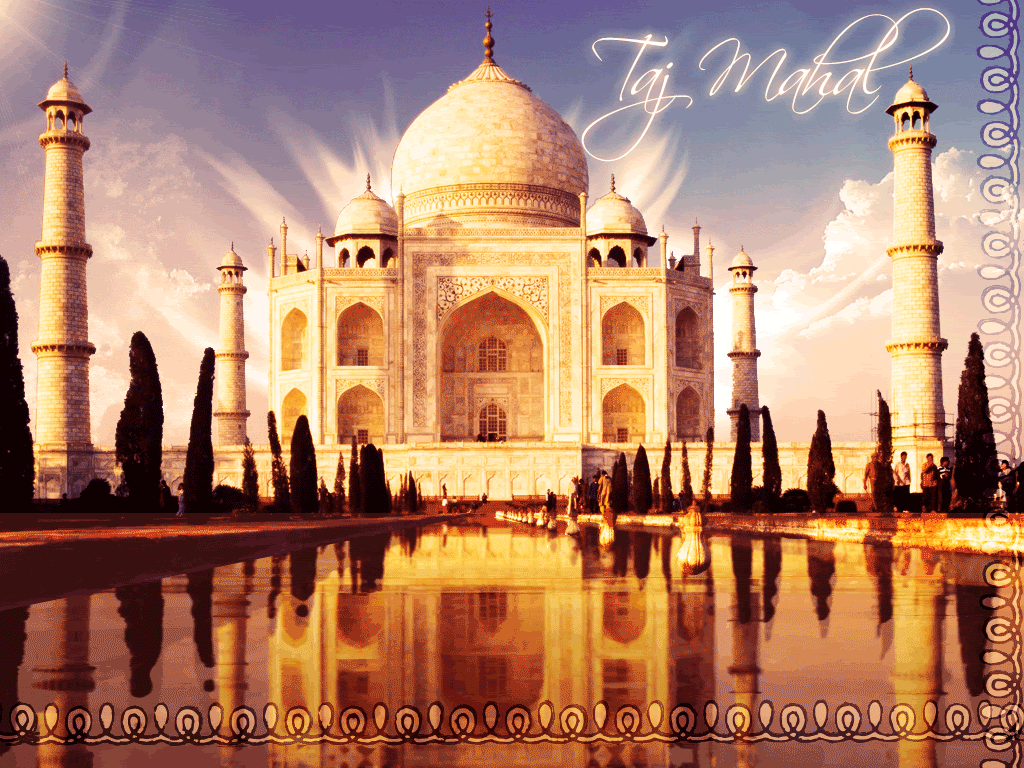 About Taj Mahal's Design
The Designing sense and concept of the Taj Mahal is very Creative.The Concept of Tajmahal was inspired from Mughal buildings like the Gur-e Amir (the tomb of Timur in Samarkand), Humayun's Tomb, Itmad-Ud-Daulah's Tomb, and Shah Jahan's own Jama Masjid in Delhi.
Sections of the Taj Mahal:
1. Tomb – There are two tombs in the Taj Mahal, one is for Shahjahan and other one is for Mumtaz.
2. Dome – The most creative feature is the marble dome that surmounts the tomb. The marble dome is nearly 35 meters. There is a gilded bronze made finial on the top of marble Dome. The top finial was originally made of gold, but it was replaced by a copy made of gilded bronze in the early 19th century. This top finial provides a clear example of integration of Persian tradition and Hindu decorative elements. The finial is topped by a moon, a typical Islamic motif whose horns points heavenward. It depicts like Lord Shiva's Trident.
3. Four minarets(Towers) – The most important and safe side pillar of Tajmahal is four minarets and each one is more than 40 meters (130 ft) tall. The four minarets are constructed slightly outside so that at the time of collapse, a typical occurrence with many tall constructions of the period, the garbage material of the towers would tend to fall away from the tomb.

इस कहानी के हिंदी अनुवाद के लिए यंहा क्लिक करें

History of Taj Mahal – An Eternal Love Story behind the Taj Mahal
Male Protagonist : Shah Jahan (Prince Khurram)
Female Protagonist : Mumtaz Mahal (Arjumand Banu Begum)
Taj Mahal, surrogate diamond of world is result of love and romantic passion of Mughal Emperor Shah Jahan.Every kid ,every adult and every old knows about the historical love of fifth Mughal Emperor, Shah Jahan constructed this wonder in the memories of his legendary wife Mumtaz Mahal.Shah Jahan bought this land of Agra.He presented Maharajah Jai Singh with a large palace in the center of Agra in exchange for the land.Shas Jahan had completed its construction in 22 years.Interesting? yes na,,,,ok Let's discuss about this amazing love story from starting 1592 t0 1632.
Shah Jahan, initially named Prince Khurram, was born in the 1592.He was the son of Jehangir(Saleem) and the grandson of Akbar.When King Shah Jahan was 15, he was a naughty boy.One day he was walking with his friends and string of fawning courtiers in the Meena Bazaar,he caught a glimpse of a girl hawking silk and glass beads.It was love at first sight and the girl was Mumtaz Mahal, she initially named Arjumand Banu Begum at that time.At that time, he was 15 years old and she, a Muslim Persian princess, was 16. After meeting her, Shah Jahan went back to her father Abdul Hasan Asaf Khan(Mughal Empire's Chief Minister) with marriage proposal and declared that he wanted to marry her.After five years i.e., in the year 1612 this lovely couple got married.
In the year 1628,Shah Jahan became the King and entrusted her with the royal seal. He had also given her a royal name Mumtaz Mahal, meaning the "Jewel of the Palace". Though Shah Jahan had other wives also,his first wife is Kandahari Begum.Mumtaz Mahal was his favorite and accompanied him everywhere,even on military campaigns.They had 14 children and in the year 1631, when Mumtaz Mahal was giving birth to their 14th girl child Gauhara Begum in Burhanpur,she died due to some complications in delivery.While Mumtaz was on her deathbed, Shah Jahan promised her that he would never remarry and will build the unique and loving mausoleum as her last wish.
He was in depression heartbroken after her death that he ordered to close the court for two years. Daily he saw a dream with Mumtaz and he made worst to worst own self. After some years, Shah Jahan had decided to make the world's most beautiful monument in the memory of his beloved. He used the labor of 22,000 workers to construct the monument and spent the money like water and took 22 years in making of wonder of the world "The Taj Mahal".
Shah Jahan was a passionate king but Tajmahal was not lucky for him.After Taj Mahal completion, a new chapter started named 'Aurangzeb'. He was born on 3 November 1618, in Dahod, Gujarat. He was the third son and sixth child of Shah Jahan and Mumtaz Mahal.Aurangzeb hated his own brother Dara Shikoh because Dara was Shah Jahan's favorite son.He imprisoned his father and killed his brother.Shah Jahan was imprisoned in jail that was in front of Taj Mahal.In that jail,he used to see TajMahal and used to talk with Mumtaj Mahal in his imagination.
Shah Jahan died in 1666, his body was buried in a tomb next to the tomb of Mumtaz Mahal. This beautiful monument came to be known as "Taj Mahal" and now it is counted among  the Seven Wonders of the World. This is the true story of the Taj Mahal of India.
Well, we will back with new Historical Story, Stay Blessed……



Bharat Matrimony -हम उनसे मिलवाते है, जिसे भगवान् ने आपके लिए बनाया है ,विवाह के लिए अच्छे खानदानी रिश्तें ढूंढे – फ्री रजिस्टर करें