New seven wonders of the world – दुनिया के 7 नये अजुबे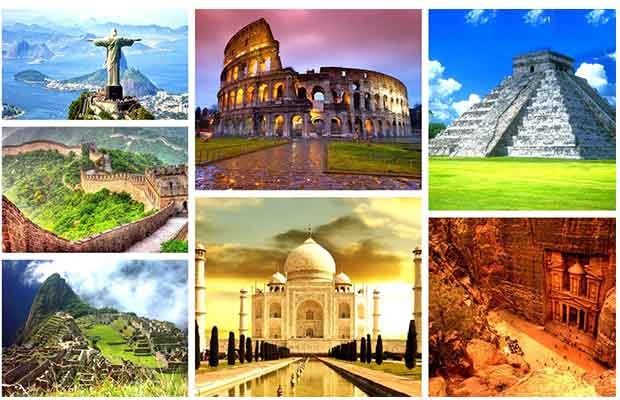 Hi, we are back with a new hot topic "wonders of the world". Unprecedented Nature has given remarkable constructions and these seven wonders of the world is the first known list of the most remarkable creations.People are curious to get answer of what are the seven wonders of the world.Here is the list of new 7 wonders of the world which are the unprecedented symbols of the skill and handwork of the people of that era.Today we become astonished to see these wonders that was made without any modern technology and machines.
1. Taj Mahal
Usually when we tell about Agra famous City of India (Bharat), as well as a name comes, it is Taj Mahal.Everyone knows Taj Mahal as a symbol of love but not everyone knows about the real story behind the Taj Mahal.People are curious to know about the true love story behind Taj Mahal.It is ultimate monument that is a symbol of an eternal love story that has been melting the hearts of millions of listeners.Fifth Mughal Emperor Shah Jahan commissioned the Taj Mahal in the memory of his begam(wife) Mumtaz Mahal in 1631.The Taj Mahal is an ivory white marble historical building on the south bank of the Yamuna river.It includes and expands on architectural design of persian and mughal tradition architecture.
The Taj Mahal is situated in Agra and this city is a third biggest district of Uttar Pardesh. Agra was the favorite city of Mughal Empire that's why earlier Mughals declared it as the capital of India but now Delhi is the Capital. According to History, Ibrahim Lodi developed Agra in 1504.
2. Christ Redeemer
Christ the Redeemer is an Art Deco statue of Jesus Christ in Rio de Janeiro, country Brazil.Basically it is created by a French sculptor named Paul Landowski and built by the Brazilian engineer Heitor da Silva Costa in 1922 to 1931.This statue is 30 metres (98 ft) tall,if we include its pedestalthen it is 38 metres (124 ft) tall. Christ Redeemer statue' s arms is stretched 28 metres (92 ft) wide.The statue is located at the peak of the 700-metres Corcovado mountain in the Tijuca Forest National Park overlooking the city of Rio.
A local Catholic priest had given an idea to make large Christian monument in 1850.In 1921, the Catholic Circle of Rio began to collect donations for a privately funded Christian monument and Construction began in 1922.
3. Great Wall of China
The Great Wall of China is a greatest sights in the world and winding path made of stone, brick, tamped earth, wood, and other materials.It is often said that the First Emperor of Qin Shi Huang built the Great Wall
4. Chichén Itzá
5. Colosseum
6. Machu Picchu
7. Petra