Tutak Tutak Tutiya Movie Review – Prabhu Deva, Tamannaah, Sonu Sood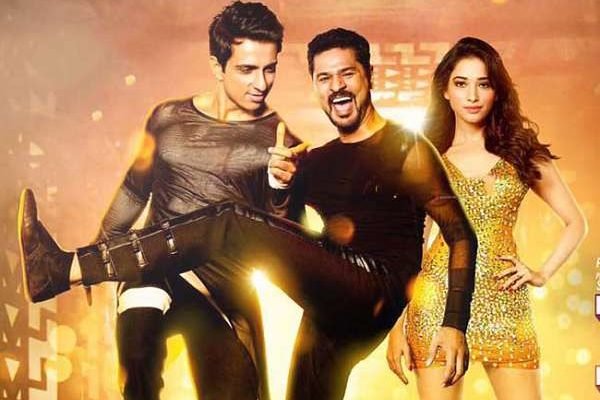 Hi, today is Friday and we are here again with the latest movie review of "Tutak Tutak Tutiya". Prabhu Deva always gives masala popcorn entertainment films and his latest produced film, Tutak Tutak Tutiya is also an example of that genre. TTT (Tutak Tutak Tutiya) film is directed by Tamil filmmaker A L Vijay and cast by Prabhu Deva, Tamannaah, Sonu Sood, Murli Sharma
Main Elements of Tutak Tutak Tutiya
Latest Film : Tutak Tutak Tutiya
Cast: Prabhu Deva, Tamannaah, Sonu Sood, Murli Sharma
Director: A. L. Vijay
Language:  Hindi, Tamil, Telgu
Famous Song: Rail Gaddi
Rating: 3/5 ⋆⋆⋆
Story Line of Tutak Tutak Tutiya
The storyline of Tutak Tutak Tutiya revolves around Krishna (Prabhu Deva) is a bachelor with modern thinking and wants to marry with a modern, English-speaking girl who is able to make him happy.But God had other plans for him. He ties a know with a village girl named Devi (Tamannaah).After their marriage, Newly married couple return to Mumbai and live in a house.Always Krishna feels ashamed to introduce his wife Devi with his friends.After some days, they feel this house is haunted and there is a spirit in this house.Ruby is the spirit and Before dying, she was an ambitious starlet and had wanted to become a popular actress. She possesses Devi to fulfill her dream of becoming a popular actress.There is also superstar Raj Khanna (Sonu Sood), who is in love with Ruby. Krishna's predicament forms a good story. Tutak Tutak Tutiya has been creating all the hype among the fans of Prabhu Deva and everyone eager to know more about the story of this film.
FLAWS IN THE MOVIE
The movie fails to meet expectations of Prabhu Deva's Fans. For those who were waiting to see Prabhu Deva's next film will be left hugely disappointed. There is no chemistry between Prabhudheva and Tamannaah Bhatia. Sonu Sood has produced this film, but he did not bring anything new in this film. Sonu not only looks jaded, but also he didn't do big in his role, he is hardly there in the first half of the film. The film is engaging and intriguing, but the second half is very slow. Also, we understand the film is multilingual but the dubbing of the film is terrible in some scenes. It is illogical but we can say it one-time watch movie.
Performance
Prabhu Deva : He is in lead role and done a fantastic performance in a role of Krishna. He is a bit awkward in the first scene but he was amazing in a comic role.In his interview, Prabhu Dheva said that It is very hard that he had to give his dialogue delivery  three times, once in Hindi, once in Telugu and once in Tamil for the three different language versions of the film.
Sonu Sood : He has short role in the film as  the superstar Rajesh Khanna.His character of a superstar is weak and one dimensional.
Tamannaah Bhatia : Tamannaah played her part perfectly. Her voice modulation is very good and she is able to shift between her two different personalities with ease.
Famous Dialogue : Agar sala meri life mein koi problem na ho..toh ye uski sabse badi problem hai.
What to do:
Tutak Tutak Tutiya is not a boring Film, It is one time watching Film. Please go with zero expectations, You will enjoy with this Movie. This film is 126 minutes long entertainer to watch, enjoy and forget.
Tutak Tutak Tutiya Movie Review – Prabhu Deva, Tamannaah, Sonu Sood
Reviewed by
Udti Khabar
on
Oct 07 2016

Rating: