Rangoon Movie Review – Saif, Kangana, Shahid & Vishal Bhardwaj are getting thumbs up
By UK News Online on February 22, 2017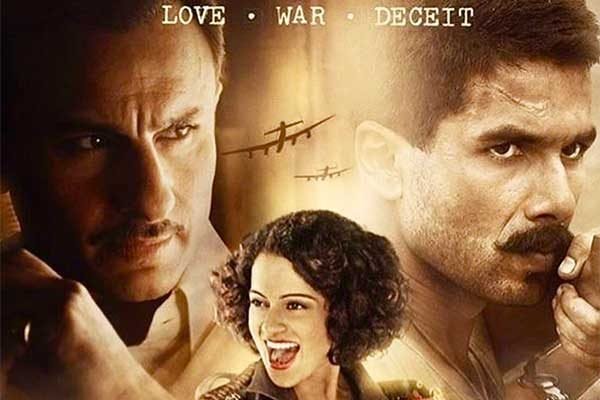 Rangoon – Saif, Kangana, Shahid & Vishal Bhardwaj's fictitious film
---
Vishal Bharadwaj's Rangoon is going to release on 24 Feb 2017 and the special screening of the film was held yesterday and we saw an overwhelming presence of Bollywood celebrities, Twitter has been overloaded with congratulatory messages for Vishal and team Kangana Ranaut, Saif Ali Khan and Shahid Kapoor. While Kareena Kapoor Khan already gave a thumbs up to Rangoon team and other celebrities are saying it a Power packed masterpiece by VishalBhardwaj with magical cinematography!
Main Elements of Rangoon
Cast: Saif Ali Khan, Kangana Ranaut & Shahid Kapoor
Director: Vishal Bhardwaj
Duration: 2 hours 25 minutes
Language: Hindi
Famous Song: Bloody Hell

Check Rangoon movie celeb review here:
---
Go on a lyrical trip to a bygone enchanting era woven together by love that you can die for #Vishalbhardwaj is simply #Hollywood #Rangoon??

— Randeep Hooda (@RandeepHooda) 22 February 2017
Another Intense n layered performance#KanganaRanaut #Rangoon #Vishalbhardwaj intricate wrk@shahidkapoor shines bright#SaifAliKhan effortless

— Prasoon Joshi (@prasoonjoshi_) 21 February 2017
Another masterpiece by #VishalBhardwaj Power packed performances & magical cinematography! Cinema at its best! #SaifAliKhan #KanganaRanaut pic.twitter.com/QZOfgiv5Ku

— Suniel Shetty (@SunielVShetty) 23 February 2017
Just finished watching preview of an outstanding movie RANGOON. @shahidkapoor is super brilliant …A great film which is a must watch ??❤️

— Urvashi Rautela ?? (@URautelaForever) 23 February 2017
REVIEW OVERVIEW
Reviewer
Review Date
Cast
Saif Ali Khan, Kangana Ranaut & Shahid Kapoor
Author Rating
4





Udti Khabar is a Online News and Multi Writing Magazine and Providing news and updates of world about Politics, Latest Sports, Bollywood, Business, Fashion Technology and Reviews.
Latest News

FOLLOW US ON FACEBOOK

Food & Recipe

UK News Online | May 5, 2017

There are billions of people all over the world who are struggling for weight loss. Being overweight can be a cause of many diseases and it doesn't allow you...
Copyright © 2022 Udti Khabar.All rights reserved. Any Content Published Here is the property of udtikhabar.com and Cannot be Published Anywhere in any Form.