Shoe Thrown At Arvind Kejriwal in Rohtak – blamed to PM Narendra Modi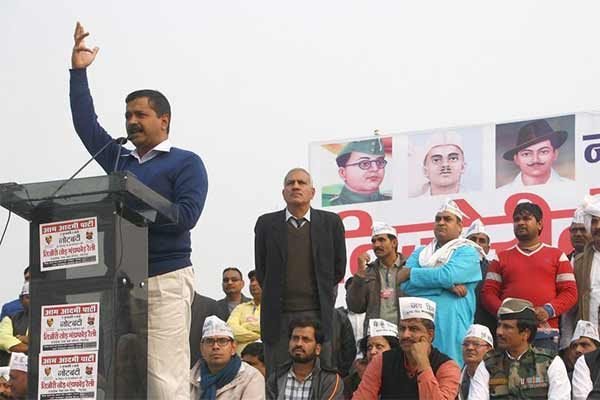 New Delhi : A breaking News has come that Delhi Chief Minister Arvind Kejriwal on Sunday faced a shoe attack. Today, 1 Jan 2016, CM Arvind Kejriwal was addressing a public meeting in Rohtak, Haryana against demonetisation. Suddenly a shoe was hurled at him. Actually, he has organized a meeting 'Tijori Tod Bhanda Fod' with public against Indian demonetisation step in which he targeted Prime Minister Narendra Modi.This shoe is proving a new year gift for CM Arvind Kejriwal.
CM Arvind Kejriwal had just begun his address when a man named Vikas (26), was sitting in the media section threw a shoe at him. The shoe missed its target and did not hurt him. However, the man, identified as Vikas Kumar resident of Mori Makrana village, district Dadri in Haryana, a senior police official told UK News Editor.
Vikas is a graduated person and unemployed. When police questioned him, the accused Vikas said he was hurt by Kejriwal's statements on the Sutlej-Yamuna link issue which went against Haryana's interests. He was frustrated with him and he threw the shoe at him.
Kejriwal said the incident proved Modis "cowardice".
"Maine Kaha tha na Narendra Modi ji Kayar hai. (I had said Modi is a coward), that is why he has sent his stooges to throw shoes at me…but you may throw shoes or conduct CBI raids, that will not stop me from speaking the truth about demonetisation scam" he said.
Kejriwal is directly blaming to Narendra Modi and saying this man has been sent by Modi, but Public are saying it may be this someone has been sent by Arvind Kejriwal himself. This shoe is proving a new year gift for CM Arvind Kejriwal.